Where is 7th Rise?
7th Rise HQ is based at the Lost Cottage of Penperth on the banks of the River Fal in the heart of Cornwall.
The cottage is nestled away within acres and acres of ancient oak woodland. It's a beautifully secluded setting, taking around 15 minutes to reach from the nearest lane. Heading across 3 fields and through the forest we are perfectly isolated for a wild getaway. The precise location of the cottage is a closely guarded secret, so only the meeting point is disclosed upon booking.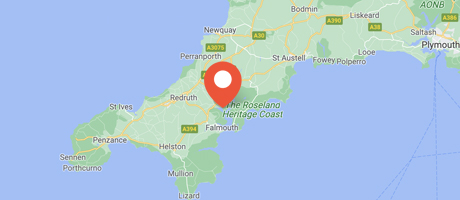 VENUE ADDRESS - Head here for your wild experience!
We don't actually have a postcode but our nearest one is TR2 5JH - try not to use your SAT NAV though and follow the instructions we've sent you.
This postcode is for our neighbours at Penperth Farm. With the farm on your right, the 7th Rise car park is opposite the layby 200m on your left. 
OFFICE ADDRESS - POST ONLY! 
7th Rise Ltd, The Woodyard, Tregothnan Estate, Truro, TR2 4AN
7th Rise Ltd, registered in England and Wales with registered number 08797469. Its registered office is The Woodyard, Tregothnan Estate, Truro, Cornwall, TR2 4AN, United Kingdom